Deck & Fence Staining in Sawyers Bar, California
When people drive up to your home in Sawyers Bar does a peeling fence stand out? If you have a deck, porch or fence that needs repairs getting them freshened up is simple when you call Tagatz Painting Co.. If you are looking for a Sawyers Bar deck staining contractor to spruce up your fence or deck, look no further. By hiring Tagatz Painting Co. to improve your deck and fence, you can enjoy your beautiful outdoor space once again, and you won't need to lift a finger (just the phone!) Call (530) 208-5305 for a free, no-obligation quote.
---
Call for a FREE Quote
---
Why Tagatz Painting Co. for Sawyers Bar Staining?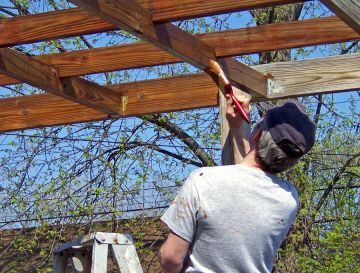 Here at Tagatz Painting Co., we pride ourselves on our passion to get the job done right. Right by your standards. We treat every deck staining job like it's our own and work hard to provide spectacular results every single time. Here are just a few of the things our customers love about our Sawyers Bar deck and fence staining services:
Quality products. Quality sealers and stains make a big difference in the outcome of your job, and we work hard to utilize the best products for lasting results. Top quality products don't mean top prices. We'll work to keep our rates fair.
Careful work. When you work with Tagatz Painting Co., you can expect professional service, skilled staining and careful work. We're not sloppy. All shrubs and furnishings will be covered and protected.
No steps skipped. We don't miss steps along the way. We know the best stained fences and decks begin with careful inspection of the wood, repairing and replacing any damaged boards and careful sanding to avoid splinters. The actual staining is the easy part!
Affordable. Staining your fence in Sawyers Bar or staining your deck shouldn't break the bank. Working with Tagatz Painting Co. is budget-friendly.
Work with professionals. Tagatz Painting Co.'s Sawyers Bar deck staining team is reliable and expertly trained. You can trust us to treat your deck or other wood staining job like we'd treat our own home!
Tagatz Painting Co. Stains Decks in Sawyers Bar, California
We also stain fences, gazebos, and wood trim! We can stain just about any wood surface. Don't suffer the look and feel of faded or splintered decks or fences. Instead, hire the trusted team from Tagatz Painting Co. to revitalize your property and improve your outdoor space. When you're sitting on your beautiful, freshly stained deck, it's hard not to have a great day! Some of the exterior surfaces we stain in Sawyers Bar include:
Decks
Fences and gates
Gazebos
Porches
Railings
Garage doors and exterior doors
and much more! Call (530) 208-5305
---
Call for FREE Deck & Fence Staining Quote
Dial Area Code first please.
---
WHAT CUSTOMERS ARE SAYING:
5★★★★★ - "Tagatz did a great job on some exterior painting/pressure washing projects for us. Tom is very responsive, knowledgeable and thorough. He and his team were always on time and let us know of any delays in a prompt manner. We appreciate the thorough and skillful painting by Justin and Grant, as well as the pressure washing by Lance. We also appreciate the final walk-through after the painting was done with Tom and both painters. Everyone we met from Tagatz was polite and courteous and respectful of our property. We highly recommend Tagatz and would definitely use them again."

Deanne P., Exterior Painting in Horse Creek, CA

2021-05-14

5★★★★★ - "Tagatz Painting painted our house back in May, 2020, and we were very happy with the experience. Tom and his crew were professional, personable, and respectful of our home. We particularly appreciated Tom's assistance with color choices. He made several suggestions which we would not have thought of, and which contributed to a result that we have been SO happy with. I don't know how his prices compare to other painters in our area, since we didn't actually shop around; however, I did some research online and determined that the price he quoted us was below the national average. And given the amount of work that was required (our existing paint was VERY old, and had been cheaply done by the previous owner), and the quality of the work that was done, we felt that the price was fair and reasonable. We would certainly recommend Tagatz Painting to anyone who wants a high quality, professional house painting service."

David C., House Painting in Central Valley, CA

2021-05-14

5★★★★★ - "Tom had great knowledge of house painting, how to choose colors...along with the patience to walk us through the process! His team is very professional, showed attention to detail, and showed great respect while on our property. I would highly recommend Tagatz Painting Co!!"

Jeanne O., House Painting in Mount Shasta, CA

2021-05-14

5★★★★★ - "He was fast , efficient, went above and beyond. It was a paint job for a rental so I was not needing a perfect job, but Tom painted it to perfection like it was his own house."

Nathan Cleaver

2021-03-22

4★★★★☆ - "Quick turn around, quality, dependable, get-it-done as promised, great staff working on my house, and my house looks and feels great! Thank you."

Jerry in Mount Shasta, CA

2019-10-28

5★★★★★ - "We highly recommend Tagatz Painting. Thomas & his crew were professional, considerate, and easy to work with. Every crew member cared about the quality of their job. Thomas was very helpful with all aspects of painting our house exterior ~ from being easy to contact to create a beautiful exterior. We felt so comfortable with Thomas' talents we let him choose the colors! He thought of things we would have missed and brought out the true beauty of our home! We could tell it wasn't just a house painting job to Thomas, but a work of art."

Jeneale B., House Painting in Redding, CA

2019-10-07

5★★★★★ - "Thomas really knows his stuff. He walked the property and took the time to educate me about my options. He was also a great help with color and design. Just a no-nonsense get it done group of guys. I wish other contractors I have dealt with were more like this."

Aurora L., Painting Contractor in Shasta Lake, CA

2019-10-07

5★★★★★ - "Not only did we receive quality work but Thomas gave us new ideas to update the look of our home.
Dominic and the painters are very good with attention to detail resulting in high quality workmanship. We were very satisfied!"

Anita

2019-04-17

5★★★★★ - "I really appreciate how Thomas was able to squeeze us in and get the job done. His knowledge of paint and colors really educated me and I trusted him with the outcome--Beautiful! I could look at it all day! I'm thankful the elasto paint has helped repair the structure."

Maggie K., Exterior Painting in Red Bluff, CA

2018-10-05

5★★★★★ - "From the moment we reached out, Thomas Tagatz was professional, responsive, and considerate. He walked the property with us and discussed necessary repairs and prep work; he helped us consider our color options (and was patient with some indecision); and he walked through his bid for the project, answering any questions we had. His team of guys is wonderful: friendly, mindful, thorough. The job was like a military maneuver, at times - and we were thrilled with the results."

Nick C., Exterior Painting in Mount Shasta, CA

2018-10-05

5★★★★★ - "Fantastic job, very prompt and professional. Thomas is clearly very knowledgeable and experienced and was able to improve our very aged wood with specialist treatment at a reasonable cost. The team carried out the work efficiently, care and great attention to service. Trustworthy and recommended."

Helen Q., House Painting in Mount Shasta, CA

2018-10-05

5★★★★★ - "Personable did the job right. No wondering it was amazing loved the company and the work. Got this done Very timely."

John S., Interior Painting in Mount Shasta, CA

2018-04-23

5★★★★★ - "Professional, arrived on time, quick set-up and complete clean-up"

Joanne O., Exterior Painting in Grenada, CA

2018-04-23

5★★★★★ - "Very professional job. We had a large complex job. When there were delays we were always informed before hand. The job was quick and not considered finished until we were completely satisfied with a walk-around."

John & Julie Signor in Dunsmuir, CA

5★★★★★ - "We would recommend Tagatz Painting Co. to anyone looking at a large painting project. Thomas responded quickly, evaluated the job and gave suggestions that ultimately saved us a lot of money. His team was great to work with as well. Overall, very professional. Thank you, Thomas for a job well done."

John and Julie in Dunsmuir, CA

5★★★★★ - "We appreciated your quick response to our request for an estimate on a interior house painting project. Once you met with us, gave us an estimate and a date to do the project, you followed through as promised, all within one week. You and two of your workmen came on the date and time promised, completed a bedroom, hall, entry way, dining room and kitchen cabinets within a day. Prep time and clean up was fast and efficient. Thank you for a professional job well done! "

Dick and JoAnne in Grenada, CA

2016-08-09
---
Call for FREE Deck & Fence Staining Quote
Dial Area Code first please.
---